Updated November 2015: As in all things, years of wear and tear have taken their toll. To continue to serve our city from this mission outpost, we must address these needs. Also, we must have a vision for the future, so that our roots will continue to nourish new growth.
We kicked off our "Access for All" capital campaign in Fall 2011 – and many of us made pledges to be paid through 2016 for four projects at our building. As with any other renovation project on a building with some age, there are always changes in plans and costs as you proceed.
Great news! Three projects have been completed and paid for thanks to your campaign donations. THANK YOU!
The steeple painting and repairs, along with the painting of the church front, was completed first in fall 2011. It was straightforward and easy to estimate. Not only is the steeple a beacon in our community, it provides us great income from the cell towers inside! The other three projects are much more complicated. $68,000, completed & paid
With the elevator, we had a plan A, B, C (and I think we about ran out of alphabets). Long story short, it's in and looks like it's been there all along! It far exceeded our preliminary estimates, but there was no way to predict that until we started in earnest. How wonderful now that our entire building in fully accessible – including getting to the fellowship hall with no stairs. $328,000, completed and paid
Our Forest Chapel received a complete makeover, creating a very flexible space for all sorts of events. The chapel was built in 1940, so our needs have changed (including wanting more comfortable seats!). The blue shag carpet was removed and we discovered the original rock maple floor. It's simply gorgeous! And we are very excited about the many improvements: coffee bar with water and refrigerator, a spacious stage, a new parking lot entrance with ramp, great lighting and 8,000 feet of electrical wiring so we now have 60 outlets! Flexible seating creates unlimited possibilities for events for the church and the community. Wood from the original pews were re-purposed for beautiful wood accents throughout. $197,000, completed and paid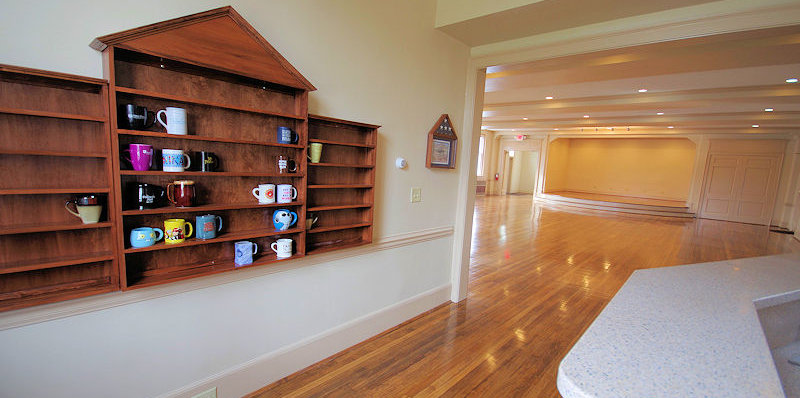 Coming in 2016 or 2017 will be the complete kitchen renovation. The hope now is that we can gut the entire 60-year old kitchen and do it right (instead of limited repairs) to bring it to commercial code for the utmost safety and efficiency. The first part of the updates (beverage station, serving counter, etc) were finished ($39,000, paid) while that area was under construction for the elevator. Our kitchen is used to feed a growing youth group (now 50+ of them!) on Sunday nights, cook for the homeless, Wednesday night meals and many church and community celebrations. We still need to raise $195,000 for this. Watch video below for a look at the kitchen!
You can help in many ways. We are so lucky to have some extremely bright and talented members that volunteer many hours to research, plan and supervise this work. In addition to saving the church thousands of dollars, these members make sure the job is done right for our future generations (not just a temporary fix). So please thank these volunteers, pray for them and don't be bashful about offering your talents to help us in the planning and completion of these projects to provide Assess for All.