All are invited to hear our special guest speaker Susan Cottrell at both College Park Sunday services on July 23, 2017 (8:30 AM in the Chapel and 10:30 AM in the Sanctuary). Susan is the prominent voice for faith parents of LGBTQI children (Lesbian, Gay, Bisexual, Transgender, Queer or Questioning, and Intersex). You may have seen her recently on ABC's 20/20, Nightline and Good Morning America sharing the truth about Reparative Therapy. She is an international speaker, author and spiritual director. Through her nonprofit organization FreedHearts, Susan champions the LGBTQI community and families with her characteristic tender-heartedness, and she zealously challenges Christians who reject them with her wise insistence that love—of God and others—is the foundation of faith. She strives to
Help parents unconditionally love, accept and affirm their LGBTQI children, and come to realize that to do so is consistent with their faith.
Help LGBTQI heal shame from family, religious, and community wounds – so they can celebrate the truth and beauty of who they are.
Help the faith community, from those in the pews to those in the pulpits, become fully inclusive and affirming, & helping heal relationships.
She has a Master of Arts in Theological Studies and served as the Vice-President of PFLAG Austin (Texas). Her books "Mom, I'm Gay"—Loving Your LGBTQ Child and Strengthening Your Faith was written for parents. And True Colors – Celebrating the Truth and Beauty of the Real You was written for the LGBTQI community and endorsed by The Human Rights Campaign, PFLAG, The Gay Christian Network and many others. She and her husband Rob have been married for 30 years, have five children, two of whom are in the LGBTQI community, and live in Austin, Texas.
Complimentary coffee will be available until 10:30 AM in the chapel.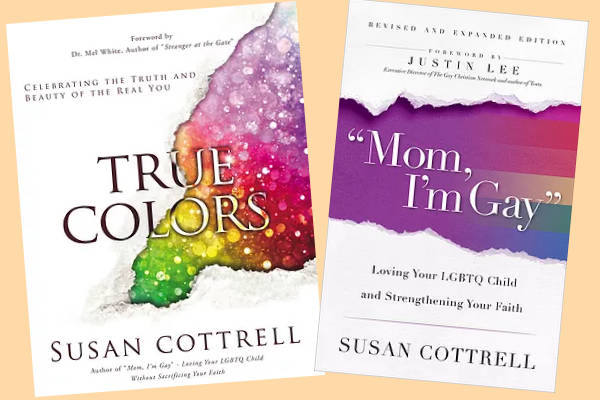 On Saturday night, July 22, 5 PM, Susan will have a book reading and signing at Scuppernong Books in downtown Greensboro at 304 South Elm.